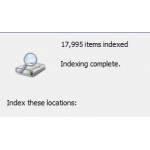 Windows Search has become extremely good in Windows 7 and 8, but how to disable it without affecting Windows Search itself?
Search Indexing in Windows
Search Indexing was supposed to make the search faster when it was first introduced, but unfortunately it's pretty much the opposite nowadays. With large amounts of files, not only does the Indexing database become a drag on disk performance, but it also slows down searches of new files and files that were not indexed, because the system has to search for them twice. On SSDs, there's also no reason to have Indexing enabled, because it just writes to the disk, wearing it out and not providing much in return.
How to disable Search Indexing without affecting Windows Search
You could disable Search Indexing via the Administrative Tools settings, but that would disable some Windows Search functionality, as well. So, here's best way to get rid of Indexing without affecting Search:
1. Step The first thing you should do is disable Indexing for the entire partition/hard drive. Just open My Computer, right click on the partition, select "Properties" and uncheck "Allow files on this drive to have contents indexed in addition to file properties".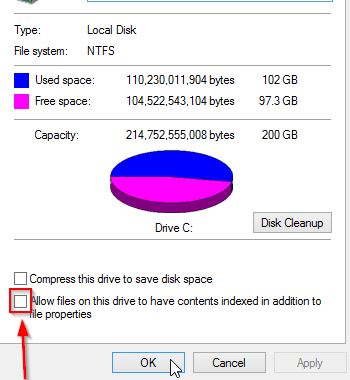 2. Step After clicking "OK" or "Apply", you'll be prompted whether to disable indexing for the drive only or for the drive and all sub-folders and files. Of course, you should choose the latter.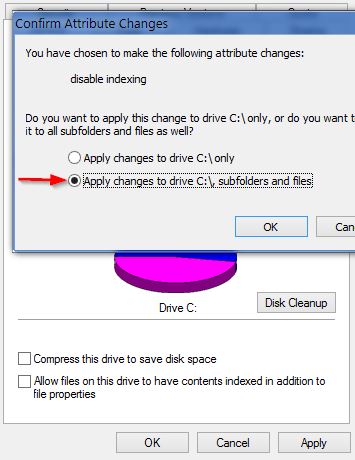 3. Step The process is going to take a while. you have to do the above for every hard drive/partition you have. Next, you need to open Indexing Options (either by typing "indexing options" in the Start menu/screen search field or from Control Panel). You'll see a list of all the locations that are being Indexed. Just click on the Modify button and deselect all the hard drives and folders to disable indexing for good. I recommend leaving the Start Menu indexed for the best performance if you use the Start menu search field often (not applicable to Windows 8, which has the Start screen always indexed).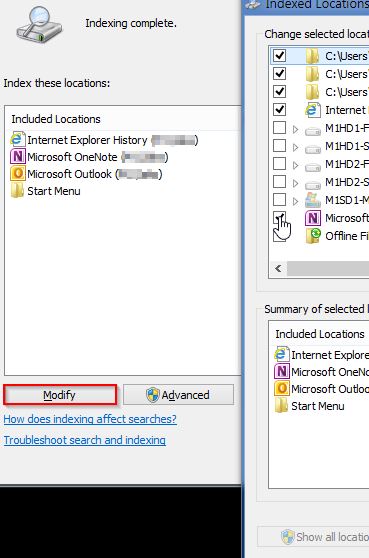 If you need to have something indexed (for OneNote, for example, which needs Indexing for searching notes), just add it manually in Indexing Options.
Conclusion
Disabling Search Indexing doesn't affect Windows Search pretty much at all, while bringing some improvement to overall system performance by freeing up RAM and more importantly, not thrashing the disk all the time. Be sure to check if Indexing is running on your computer and try to disable it as explained.