Java 8u65 has been out in the wild for some time. It includes various security fixes and improvements for Java 8 apps. Here's the latest mirror download for 64-bit machines.
Recent Changes And Notes: Java8u65 includes critical security patches. Java8u45 makes one considerable change. It improves JAR file handing. The version before that disabled SSLv3 support by default due to the security threat it poses. If you are using an old browser, you are encouraged to upgrade immediately. You can verify whether or not you are vulnerable to SSLv3 attacks here. Server admins are encouraged to disable SSLv3 support on their servers – As pointed out by Google SSLv3 is considered broken and insecure.
Download Java 8
It is a good idea to compare MD5 checksums for file downloads from unknown sources. Use a tool such as
WinMD5
Links:
Above are links to the most recent Java versions 8u31 for 64-bit (x64) and 32-bit machines (x32). You can use a MD5 checksum tool to verify its integrity!
FAQ: What Java Version Do I Need (JDK vs. JRE)?
Below are answers to some of the most commonly asked questions regarding Java:
Can I install multiple versions of Java on my system?
Answer: Yes, you can install Java 32-bit and Java 64-bit on your system
Can I install older versions of Java?
Answer: Yes, you can download two 64-bit Java versions belows. One is the 6u24 (latest) and an older version 6u18.
What is the difference between JDK and JRE?
Answer: JDK stands for Java Development Kit and JRE stands for Java Runtime Environment. If you are not a developer, you need the JRE.
How can I check what Java version is installed on my PC?
There's a very easy way to do that and you can also find out weather you are already running Java 64-bit or not.
Go to the website: Java Check Website
Java: A Resource Hog?
Something that still causes a lot of trouble on many Windows x64 machines is Java. Java is needed for all those cool web 2.0 applications and for games like Minecraft, but it's also a resource hog and is often causing a very high CPU load, therefore many people deactive it completely. Nonetheless, it's an important download.
What is Java 64-bit needed for?
Answer: For a 64-bit browser.
Yes, you can run Java 32-bit on your x64 Windows 7 system, but if you download and install Java 64-bit, you can also run any 64-bit browser. Firefox for example offers a 64-bit browser for Windows 7 x64. By default, Windows 7 includes a x32 and x64 edition of the Internet Explorer 8.
IE9 64-bit location:
Where can I find the different 64-bit browsers?
IE9 32-bit: C:/Program Files (x86)/Internet Explorer/
IE9 64-bit: C:/Program Files/Internet Explorer/
Firefox 64-bit download:
Usage solely depends on your purposes. 64-bit browsers are not needed for the average consumer and are considered unstable most of the time. A browse called Waterfox, based on Firefox, claims it is the most reliable 64-bit browser. If you have a real need to look into this, I suggest you try Waterfox first.
JDK: Required For Some Java Apps (Rare)
The JDK includes a 64-bit plugin for Windows. The JRE does not include this plugin, so you will have to download this large file in some cases (VERY rarely). You can download it here:
Windows x64 self-extracting JDK file
MD5 Checksum
MD5 (jdk-7u45-windows-x64.exe) = 81BF3218A2EEC7963B979187FB4109F30
The latest version of Java is 8u31.
An important security update has been released in October 2013, so if you haven't updated Java recently, make sure to update to the latest version, version 8. It is very urgent that you download and install the update – it fixes various security exploits and includes over 100 fixes combined. The update also addresses RIA (rich internet applications. You now have to confirm whenever a site makes a connection to a 3rd-party RIA. The warning looks like this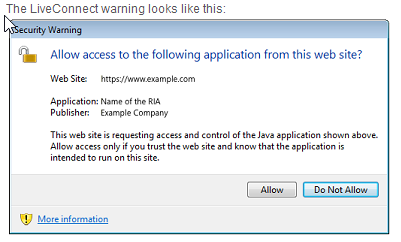 Old Versions: Java 7u51, 8u31, 8u45
Java's version is 7u51 – if you don't have this version you are exposing your browser to additional threats and exploits. If you don't know what version of Java you are currently running,
click here