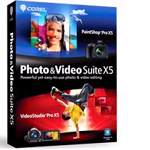 If you want to buy a Photo editing suite, consider reading this review of Photo and Video Pro Suite X5


This program is actually two programs on two separate disks which come packaged together. Paintshop Pro is a photo editing suite which allows users to adjust color tones and eliminate blur in their photos. Video Studio Pro is a tool for editing movie files and creating slide shows. Together they form Photo and Video Pro Suite X5, from Corel. How does this stack up against similar tools like Adobe Photoshop or Sony Vegas? Let's take a look.
Photo Editing
With Paintshop Pro, it's possible to make all sorts of photos look better. The program can handle even high definition photos and raw digital camera files. Designed for amateurs who just want to reduce red-eye, eliminate blemishes and clean up blurring, the program has a host of easy tools that do much of the work of photo editing for you. However by using them, you do sacrifice some of the control you get with a harder to use program. For people who aren't too concerned about getting exactly the result they want but do want great looking photos, this may be just the thing.
Creating Video
The video editing software, also intended for novices, has an easy and intuitive interface, which most people are able to learn quickly. The suite accepts many different video files, including .avi, Windows Media Format and DivX. With Video Pro Suite X5 it's possible to record things on your computer screen, create interactive media presentations, and burn your movies to DVD or Blu-ray disks. DVD and Blu-ray menus are created by the program from simple templates, and the final product will play on any DVD or Blu-ray player.
Effects
From Chroma Key Green screening to color correction, video studio pro has tons of different effects that can be applied to any movie. Merge two layers of film together to get new visuals, or take your edited pictures and put them right into the movie. Also, it's possible to combine the functions of Paint Shop Pro with those of Video Studio Pro to create animated films, or to make a unique scrapbook of photos and home movies spliced together. If you like, you can add text to movies to enhance the film or to create subtitles.
Performance
Probably the biggest fly in the ointment for most users are the extremely long rendering times for videos. Even a short film can take 6 hours or more to render and the process completely ties up your computer, making it useless for anything else in the meanwhile. People who have older machines have reported stability issues such as crashing and file corruption. These problems seem to pop up less on newer machines, but there are still some users that experience them.
As a whole, Photo and Video Pro Suite X5 is not a bad program, especially for its price range. However, only casual to intermediate users will be satisfied with the lack of control over some of the editing, and will find the simple tools to be too general. If you're not trying to create something 100% professional and you simply don't have the money for more advanced software, this can be a very nice compromise, especially to those with little or no experience editing photos and video.