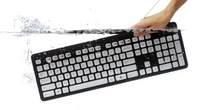 If you belong to the group of people spilling coffee or coke on your keyboard, you should consider getting the new Logitech Washable Keyboard K310
In over 10 years, I don't think I ever spilled any liquids on my keyboard, but one thing I can definitely relate to is having a clean keyboard. Keyboards get filthy really quickly: Dust, food, bacteria and so on. I strongly recommend cleaning your keyboard regularly, because it can even be considered a potential risk for your health if you don't clean it but use your keyboard frequently.
The problem: Cleaning a keyboard is a lot of work if you want to do it professionally. Unless you have a top-notch keyboard you will most likely not enjoy cleaning it. A new keyboard by Logitech makes cleaning your keyboard hassle-free: The new Logitech Washable Keyboard K310.
Check out the product video:
Designed to look and function like new – even over time. From a light dusting to a soak*, this washable keyboard with drainage holes is easy to clean and easy to dry.
K310 Washable Keyboard on Amazon