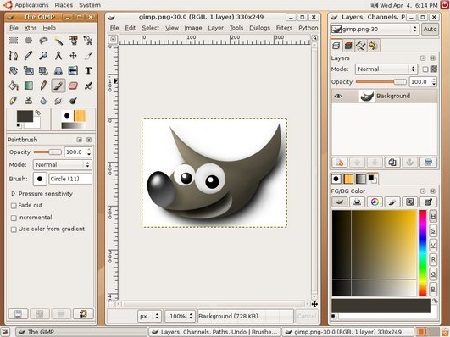 Photoshop is one of the most popular tools to edit your photos, but there are many other tools, including free tools that you can use to quickly and professionally modify pictures
Thousands of unforgettable memories which fade away with time are captured and framed forever through pictures. Photography is a famous hobby and occupation of many people nowadays. When we take pictures often we find the picture has some flaws although it has managed to capture a memorable moment. Picture editing software helps us to edit, enhance and manipulate the flaws and recreates its beauty. Thus picture editing software applications have gained global popularity.By editing the digital photos you can create greetings cards, incredible graphic images, business card, website design and other lots of things.
1) GIMP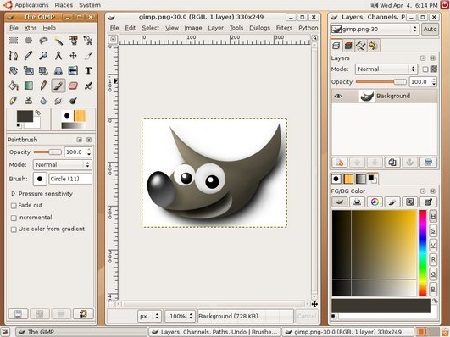 The full form of GIMP is GNU Image Manipulation Program. It is a powerful open source image editor which has various types of featured packs. It is compatible with Operating Systems like Windows 7, Windows Vista, Linux, and Mac. It has customizable interface. You can edit many common formats like JPG, GIF, PNG, TIFF, and even PSD (Photoshop's native file format).It has a huge set of editing tools by which you can beautify, recreate, retouch,manipulate, composite and authorize a digital picture. GIMP is the best free alternative for Adobe Photoshop. Various imperfect digital photos can be easily compensated by GIMP. One disadvantage is that it is a bit complicated for new users.
Photoshop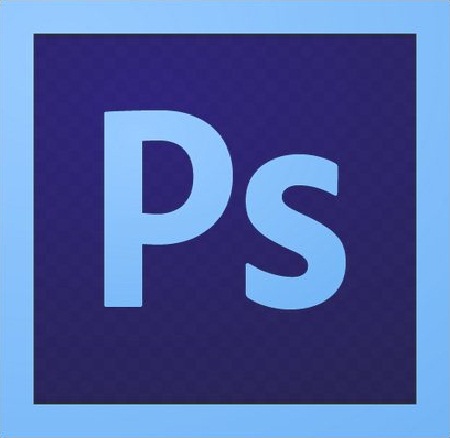 Photoshop is a product of Adobe which has insuperable amount of features to help you to edit and recreate a digital image. It is also known as a DPP, Desktop Publishing Program. The extended versions of Adobe Photoshop offers editing of video, extra 3D image creation, motion graphics editing, and advanced image analysis features. The version of Photoshop are CS1 , CS2 , CS3 , CS4 , CS4 , CS5 and latest one is CS6 , released on 30 August 2012 . CS6 allows background saving that means when another document is compiling and archiving itself, it is possible to simultaneously edit an image. It also has Straighten tool which allow users to draw a line anywhere in the image. The disadvantage of Photoshop is it is very hard for new user and like most graphic programs it uses a lot of memory, so more memory is needed.
Picasa
Picasa is a product of Google. It is powerful free software which helps you to search, edit control and share all pictures on your computer or laptop. This photo library software has basic editing tools. It works with JPEG,GIF,BMP, PSD and movie files. Picasa has file importing and tracking features. It also has several basic photo editing functions like colorenhancement, red eye reduction and cropping. Moreover the special feature that made Picasa famous is its wide range of special effects like 1970s, Movie grain, Sepia, Ortonish and many more. Picasa has a search bar which is always visible when viewing the library. The main advantage of Picasais that it user friendly and easy for beginners. Disadvantage of Picasa is that you cannot use Picasa in rich photo editing perpous because of its very limiting features.
Paint.NET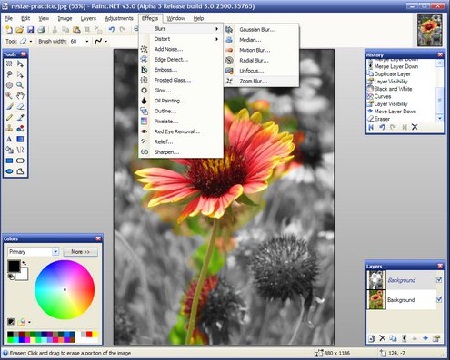 Paint.NET is a product of dotPDN, LLC . The software is very user-friendly and its navigation is simple and fast. Paint.NET features layers, special effect, painting and drawing tools, unlimited undo history, and leveladjustments. It alsosupports 3-D rotate/zoom effect and red eye removal. It is a very good software for casualimage editing. The main advantage of Paint.NET is that, it is very easy to use and has a very fine user interface. But it has limited features and it is non-portable.
Windows Live Photo Gallery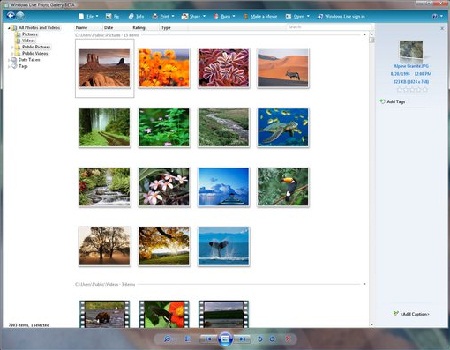 Windows Photo Gallery is a free picture editing software developed by Microsoft Corporation. The latest version of Windows Photo Gallery is WindowsPhoto Gallery 2012(Wave 5) which allows user to select up 50 images and automatically create a collage of their images. This product of Microsoft is good for publishing images on social platform and it is very easy to use.