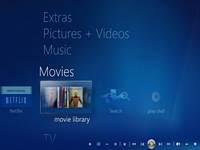 Here's how to get Windows Media Center On Windows 8 Release Preview and possibly also on the discounted upgrades to Windows 8 Pro.
How To Install Windows Media Center On Windows 8
As you might know by now, it is possible to get Windows Media Center for free with your Windows 8 upgrade contrary to what was said earlier about the matter. And as of right now, Windows Media Center is available on Windows 8 Release Preview but it does not come with the bundle. For that, you will have to manually add it. But worry not, it is done through a built in system and there is no manual download and install involved.
1. Step
Bring up the Charms bar by moving your cursor to the upper or lower right corner and click on the Magnifying Glass icon for 'Search'.
2. Step
Type in "add features" in to the search box. In the categories that appear below your search box, choose "Settings". And once this is done, you will see an item titled "Add features to Windows 8" on your left.
3. Step
Click on the item and when it asks for a product key choose the option "I already have a product key". Use the following product —
MBFBV-W3DP2-2MVKN-PJCQD-KKTF7
5. Step
Click on the check box to accept the license agreement and then click on "Add features" button.
6. Step
Sit back, relax and watch your Windows 8 PC install Windows Media Center all by itself. Once done, a new "Windows Media Center" tile will be added to your Start Screen.
Pro Tip: You can launch the add features tool directly by hitting Win+R to bring up the run dialog box and typing in
WindowsAnytimeUpgradeui
and hitting enter.
The product key mentioned above is freely available from Microsoft for the Release Preview build but it will not work on future builds of the OS.