If one of your devices is not working properly, it's usually a good idea to remove it from the device manager.
1. Step Open the device manager, you can simply enter "device manager" into the search bar on your Start menu:

2. Step Uncollapse the type of device that you want to remove, e.g. Disk drives, Display adapters, Network adapters
3. Step When you remove a network adapter, you should know what your main adapter is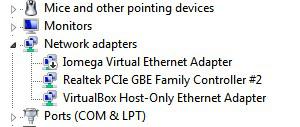 4. Step Now right-click on the device and click on Uninstall

5. Step The computer will remove the device now.
6. Step If you right-click on your username at the top and select Scan for hardware changes, Windows 7 will automatically detect that the device was removed and it will re-add it along with re-installing the necessary Windows drivers

The device may now work properly again. If removing the device does not help, you should try finding a driver on the manufacturer website rather than using a Windows driver