The airplane mode is handy for mobile devices running on Windows 8, so it's good to know how to turn it on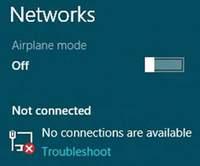 Most of you must have heard and in fact, used the airplane mode on your blackeberries, androids, and iphones. But how many of you used it in Windows 8? We know that enabling airplane mode would disable the network carrier of your cellphone. Interpret this idea in Windows 8. Airplane mode would lead to disabling all of your wireless networks, including any Bluetooth devices connected. If you are travelling, turning off the airplane mode would help you in saving battery time. Here is how to do it:
1. StepOn the bottom right corner of your screen, click on Network icon.
2. StepYou would now see a sidebar displayed on the right side as below. Click the Airplane mode slider from Off to On. This shall enable airplane mode in Windows 8.