Do you own any linksys devices? It's hard to find some *working* drivers for linksys, but I did! In general it is a good idea to use the Windows Vista driver for your devices, because those should work. If they are not, then you will have to look for alternatives. This post is going to help you to find those alternatives and install them properly.

Testing On 64-bit Machine
I'm personally on a Windows 7 x64 machine and it's even harder to find some working drivers for that edition. Well, although I like the new linksys site their driver support still is incredibly awful. I tried to download a driver for the Linksys Wireless-G PCI Adapter WMP54G from their site, but the download wouldn't finish.
No worries, I uploaded all drivers to this site to make sure that they are up and fully working.
First of all connect the device to your PC.
After booting the PC, you should automatically get a message that no driver has been found and the the device did not install successfully.
Download your drivers and install them manually (tutorial below).
Linksys Drivers for Windows 7 – Linksys Wireless-G PCI Adapter WMP54G
For Windows 7 you will need the RT25000 drivers. I uploaded the x64 here, I suppose it works for x32 and Vista as well, but I only tested it on Windows 7 x64 myself.
Linksys Windows 7 x64 driver Linksys Wireless-G PCI Adapter WMP54G
You can also download some drivers from their official site, but none for Windows 7 (what a joke!)
http://www.linksysbycisco.com/US/en/support/WMP54G/download
In some cases Windows 7 might suggest some drivers for the Wireless -G PCI Adapter, but you shouldn't use them because they will cause terrible lags. Instead download the Windows Vista 32/64-bit driver for the Ralink RT256x & RT266x Series as described above. Read more about it here.
Installing Windows 7 drivers manually
Open up the device manager. To do that simply go to the control panel (Start-> Control Panel). Click on Hardware & Sound and click on "Device Manager" as seen below:

Next, you'll see a list with possibly one or more uncollapsed entries:

One of the entries is "Unknown Network Controller" or simply "Network Controller".  I already installed the Wireless PCI Adapater from linksys, which proves that you can indeed install it on Windows 7.
Double-click on "Network Controller" and click on "Update Driver as seen below: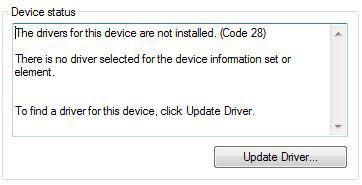 Next, click on "Browse my computer to search for drivers" and locate the folder with all your downloads:

Add the folder with the drivers that you downloaded (you can find the download links at the top of this post). Confirm your selection.
When you are done, you should also confirm the warning that this is not a signed driver and install it anyway. No worries, this isn't a problem and won't cause any hardware problems.
I hope that helps some people to install their crappy linksys devices.
Cheers!