Are you looking for a way to decrease the boot up time of Windows 7? There are many solutions out there. A very common one is to disable the Windows Prefetcher and the Windows Superfetch feature. This does not work at all and won't make your system faster. We still want to take a look at it and find out a bit more about it.

Sidenote: Make sure to backup your registry before you edit any registry settings.
How to disable the Windows Prefetcher
First of all open up the registry (Click on Start and enter "regedit", click on regedit.exe), confirm the UAC warning and locate the following registry file:
HKEY_LOCAL_MACHINE\System\CurrentControlSet\Control\SessionManager\MemoryManagement\PrefetchParameters\
Entry: "Enable Superfetch"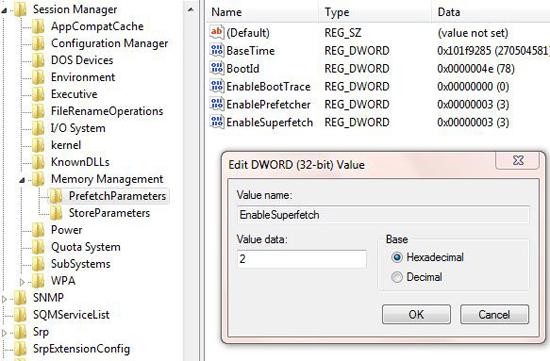 Double-click on "Enable Superfetch" and change the value from "3" to "2". Do the same for "Enable Prefetcher".
About Windows Prefetcher
The Windows Prefetcher is a background service that can preloads applications into your memory.
0 – no prefetch
1 – prefetch applications only
2 – prefetch boot only
3 – prefetch both applications & boot (default)
This registry hack was pretty popular back in Windows XP. Back then people set it to "5", although any setting above 3 is not even document.
About Superfetch
Windows Superfetch is an improved feature of Windows Vista and Windows 7 that monitors your behaviour and preloads the most commonly used applications into the RAM when you start Windows, so that you can access them faster. The Prefetch folder is located at C:/Windows/Prefetch. The longer you use your system the better it works.
Why you shouldn't disable it
Only the files used during boot will be Prefetched. The Prefetch folder is not a cache. If you change the value to "2" the boot time will still be exactly the same!
Speed Up Windows 7
Instead read this guide to speed up Windows 7
Although I agree that some tweaks are not optimal, it's always a good idea to disable unused services and features that you don't need. That will really help you to speed up your system.