We take a close look at WIPE, a free program that deletes traces of your internet browsing history

Privacy Issues and us
Privacy issue is of serious concern these days. Even if you have deleted everything from your browsing history, there would still be traces left of it. These traces can help intruders and hackers in attempting to break-in your system and hack your important credentials such as credit card information, private bank account details, and many more.
Unfortunately, most of the users do not realize that even though they are providing credit card information on trusted websites, backend monitoring through spyware could be done by hackers.
Moreover, by not removing junk files, temporary files and tracking cookies, system can get slow. To avoid this, it is important to perform regular maintenance and health checks on your system to assure efficient CPU utilization. There are sites that secretly track your navigation history and keep a track record of it.
Simple Solution: WIPE
You do not want your sensitive information to be misused by hackers, right? For that, we a have a simple system maintenance program reviewed herein, called WIPE.
It is an all-in-one solution doing the following:
1. Step Permanently erases browsing history & tracking cookies
2. Step Permanently erases temporary internet files, auto-complete forms, and caches
3. Step Permanently erases tracks of allowing hackers of entering your system
The main feature of this program is to eliminate all track records and traces that can be used by hackers to enter your system and steal your personal information. Be careful though when you are cleaning files through this app. There could be some important system files that you do not want to be deleted. For this purpose, there is an Advanced Cleaning Mode that lets you select whiles files you want to be removed from your system safely.
The 2 scanning modes
Once launched, the initial scan detects all tracks that are harmful for your system. Once scanning is completed, there are 2 ways to get rid of traces. One method is using the Delete tracks and garbage designed for beginners and non-techie users.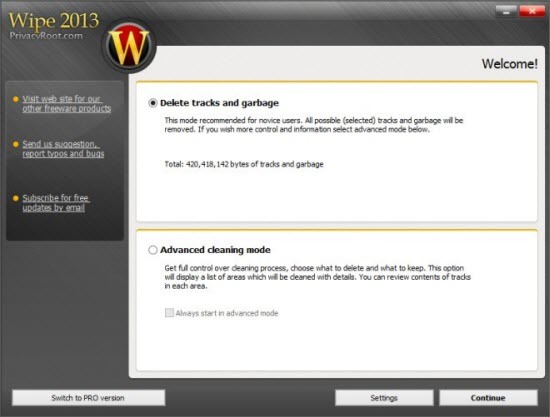 The second mode is Advanced Cleaning Mode that we discussed above. This mode lets you select the files that you want to delete so that your important system files stay safe. After selecting the items to delete, the application starts the deletion process.
There are 2 versions of the program, Free & Paid. The only difference is the additional cleaning methods in the Pro version that are priced at $9.99 for 1 PC license. The application works smoothly on all versions of Windows including Windows 8. It is a handy tool that ensures peace of mind, especially for those that tend to sell their systems to others.