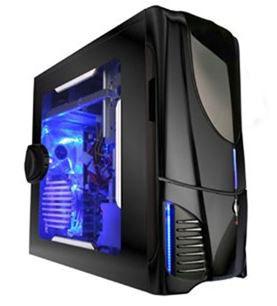 After receiving my new gaming and working rig today, I thought it would be worth it to write down a few nice setups for gaming rigs in the price range between $800 and $1500. What's your current setup? We need your opinions and suggestions for the ultimate gaming rig.



Here are 3 gaming rigs for 2010
Intel Gaming Rig for ~$1500
Intel CPU's are generally more expensive than their AMD counterparts, but they are usually a bit faster (depends on the task). This is also true in 2010. AMD finally rolled out their six-core CPU's Phenom II X6, which you can order online for less than $200! They are significantly less expensive than Intel's Core i7, but are definitely a good choice for a cheap gaming rig.
CPU: Intel 2.93 GHz Core i7-870 ~ $543
Graphic: ASUS Radeon HD 5850 (Cypress Pro) EAH5850 ~ $319
Motherboard: Gigabyte P55-UD6 – $179.99 @Mwave.com
RAM: G.SKILL Ripjaws Series 4GB (2 x 2GB) DDR3 1333 ~ $109
HDD: Seagate Barracuda 7200.11 1.5TB Hard Drive ~ $70
Power: Antec Trio 650 ATX Power Supply ~ $100
PC Case: Thermaltake Element G ~ $124
Cooler: Thermaltake Spin Q CPU ~ $70
Tip: It's usually a good idea to buy from only a single online shop, e.g. Newegg in order to save money for shipping. However, you might be able to save some bucks if you split your order in two parts.
AMD Gaming + Working Rig for ~$1250
Personally, I prefer cheap AMD CPU's in a combination with an ASUS motherboard/graphic card. Here's my current setup (without graphic card yet):
OS: Microsoft Windows 7 Professional 64-Bit
CPU: AMD Phenom II X6 1055T
Graphics: Asus ENGTX260/2DI NVIDIA GeForce GTX 260
Power: be quiet! Pure Power L7 530W
Case: Sharkoon Rebel9 Value-Edition (very impressive large cooler)
Motherboard: Asus M4A89GTD PRO/USB3
1. HDD: Western Digital WD7500AADS 750 GB
2. HDD: Samsung HD502HJ 500 GB
RAM: G.Skill DIMM 4 GB DDR3-1333 Kit
Drive: LG DH-16NS
Cheap Gaming Rig for Under $1000
Finally, if you are on a tight budget, here's a gaming rig for under $1000!
CPU: Intel Pentium E6500 & ASUS P5KPL-AM ~ $186
or AMD Athlon II X3 435 & Biostar TA780LE ~ $189
RAM: Kingston ValueRam PC2-6400 DDR2-800 4GB (2X2GB) ~ $118
Graphics: Palit GTS250 ~ $179 or PowerColor HD 4850 ~ $129
HD: Seagate Barracuda 7200.12 500GB ~ $68
Drive: Samsung SATA 22X DVD Rewriter ~ $31
Power: Andyson G480W PSU ~ $65
Cooler: Cooler Master Elite 334 ~ $69
External Gaming Rig Buyer's Guide
If you are looking for a complete buyer's guide, head over to http://forums.hardwarezone.com.sg, their buyer's guide is very detailed and provides a long list of gaming rigs for every budget, bet it small or large.
[ Insert Your Gaming Rig here ]
What is your current gaming rig?
Leave a comment and post your current or your most-wanted gaming rig. One of the most-wanted gaming rigs is probably the latest Alienware gaming rig with this fancy widescreen monitor:
Windows 7 Gadgets for Overclockers
If you intend to overclock your gaming rig, make sure to read this: