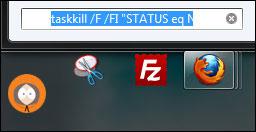 Do you regularly have some processes that hang and you're getting bored of killing them individually? If so, you might want to read this guide to learn the commands to kill multiple processes in Windows 7 and download a shortcut to do it automatically after the break.
1. Step Click on Start
2. Step Enter taskkill /F /FI "STATUS eq NOT RESPONDING" into the search field
3. Step Hit enter and Windows 7 will kill all processes that are currently not responding! Useful!
Alternatively, open a command prompt and paste the command there. That's how you will know which tasks will be killed.
If there are currently no tasks that are not responding, you will get the error message
INFO: No tasks running with the specified criteria
Should there be a task not responding you will get a SUCCESS message.
Download "Kill Unresponsive Tasks" Shortcut
Don't want to enter this command over and over again to kill processes that are unresponsive? Here's the solution, you can create a shortcut (lnk) and enter the command.
Don't know how to create a shortcut? Download it from us!
Download Kill Unresponsive Tasks Shortcut
Extract this file to your desktop and you will have the shortcut "Kill Unresponsive Tasks" right on your desktop. Handy!
Did you like this trick? Let us know what else you want to a handy shortcut for!